EDWARD I. KOCH CONGRESSIONAL PROJECT
What is the Edward I. Koch Congressional Project?

The project will make the 330 boxes of Edward I. Koch's Congressional records publicly available. Held by the Municipal Archives since the 1980s, they have been inaccessible pending necessary processing and inventory activities. The collection includes correspondence, legislative memos, photos, campaign handouts and more. Highlights include papers related to the Vietnam War, gun control, immigration, mass transit, urban development, and the impeachment of President Richard M. Nixon.

What will be accomplished?

The records will be inventoried, re-housed, digitized and posted online. Video and audiotapes will be transferred to more stable formats.

What is the budget for the project?

$99,000 will fund staff salaries for a ten-month project. Tax deductible donations can be made to the NY Archival Society. Contribute here.
Edward Irving Koch
December 12, 1924 - February 1, 2013
Bronx-born, Edward Irving Koch graduated from high school in Newark, NJ, and attended City College before being drafted into the Army in 1943. He earned two battle stars in Europe as an infantryman. With a law degree from New York University in 1948, he was in private practice for twenty years. He became a founding partner of Koch, Lankenau, Schwartz & Kovner in 1963.
Backed by the Village Independent Democrats, Koch won a City Council seat in 1966. In 1968, he became the representative for the 17th Congressional District, the first Democrat to occupy the seat since 1934. He won re-election four times by substantial majorities and served until 1977.
As Mayor from 1978 through 1989, Koch is credited with reviving the city after the fiscal crisis, restoring municipal services and infrastructure; he launched an ambitious housing program that continues to bring affordable housing to New Yorkers.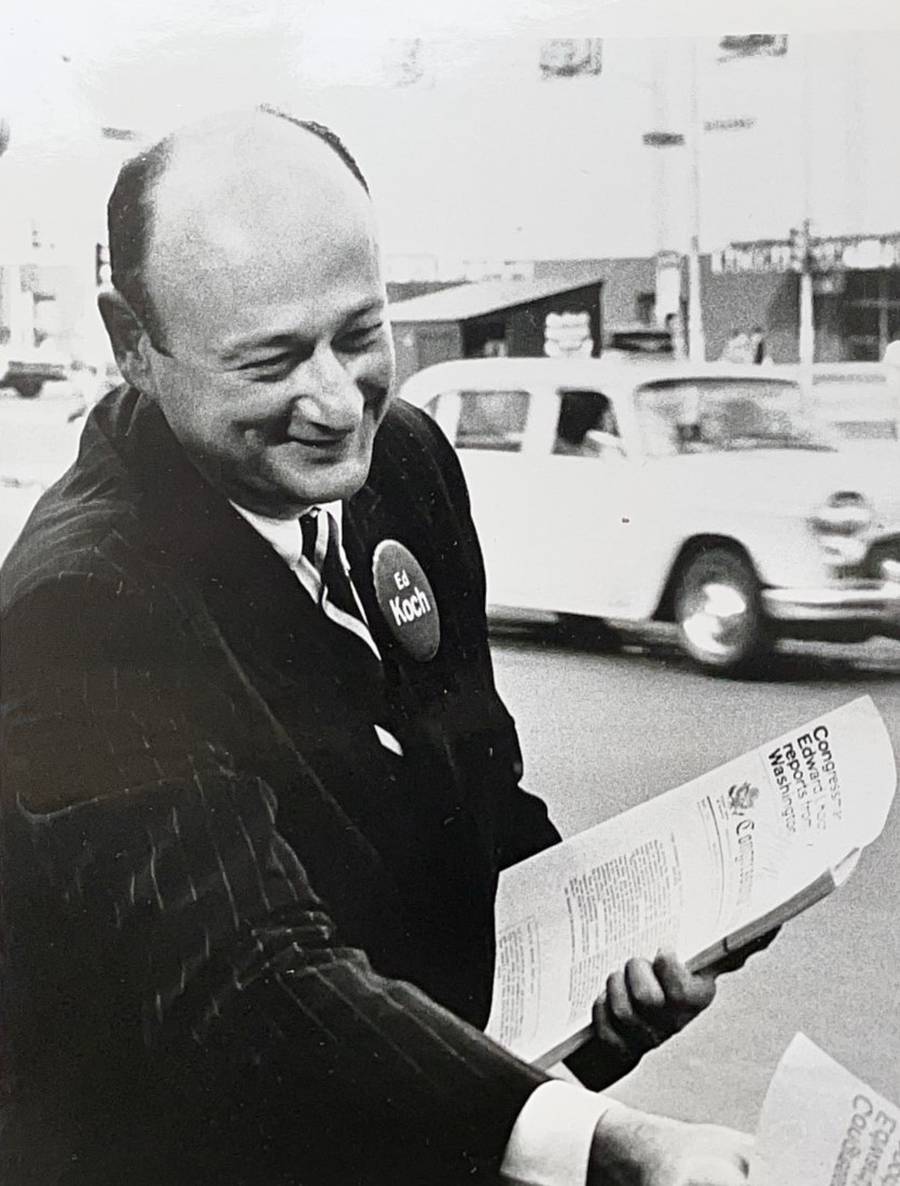 Congressmember Ed Koch with Prime Minister of Israel Golda Meir
In 1974, while representing Manhattan in Congress, he met with Golda Meir. As Mayor, he presided over re-naming a midtown Manhattan plaza "Golda Meir Square".
Congressmember Koch Subject Files
The subject files document the law Koch co-sponsored that gave citizens access to their government files, legislation he introduced for a national commission on drug abuse, as well his support for public transportation, housing, aid to Israel, solar energy research, federal financing of abortions and consumer protection measures. His file on President Nixon's impeachment is just one highlight.
Preserving Electronic Media
The Collection also includes electronic media that must be reformatted to provide access and ensure long-term preservation.
Invitations
The invitations Koch received, and saved, provide a striking visual snapshot of the U.S. in the 1970s.